Welcome to the Office of the President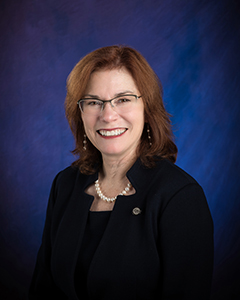 Garnett S. Stokes was selected as the 23rd president of The University of New Mexico on November 2, 2017.
Soon after taking office on March 1, 2018, Stokes announced her intention to better understand the campus, the communities that surround it and the state of New Mexico. She initiated a multipronged approach to listening to students, faculty, alumni, staff, and community members, including participating in nearly 100 events during her first 100 days in office. 
She spoke to more than 1,320 New Mexicans on the Statewide Listening Tour, which helped frame her immediate presidential initiatives of campus safety, supporting student Veterans, and furthering the University's mission of world-class research.
Read more about President Stokes
---
Land Acknowledgement
Founded in 1889, the University of New Mexico sits on the traditional homelands of the Pueblo of Sandia. The original peoples of New Mexico Pueblo, Navajo, and Apache since time immemorial, have deep connections to the land and have made significant contributions to the broader community statewide. We honor the land itself and those who remain stewards of this land throughout the generations and also acknowledge our committed relationship to Indigenous peoples. We gratefully recognize our history.
---